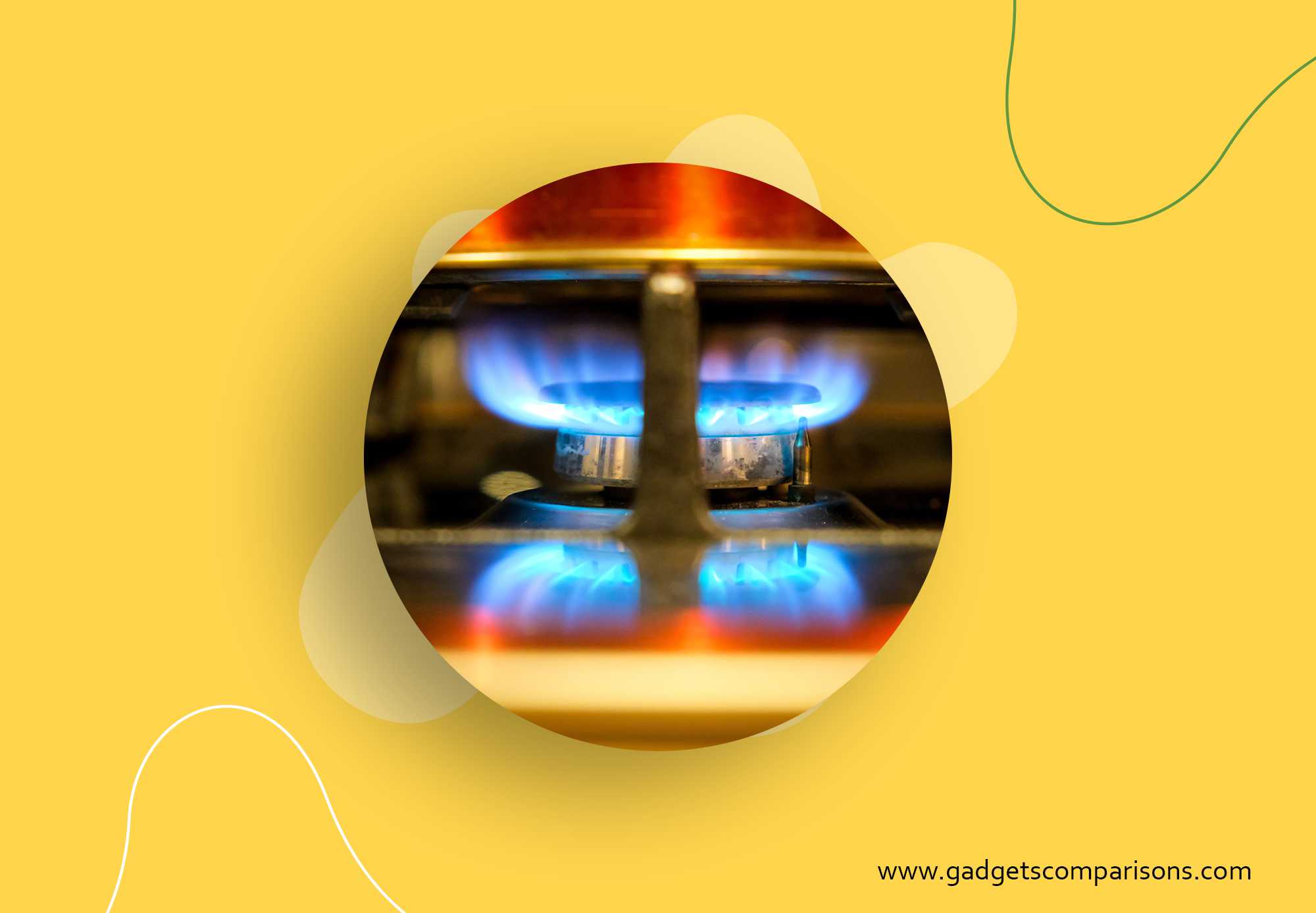 Hey Guys and Girls!
As you landed here you are definitely looking for the best heat diffuser for your gas stove. Moreover, I assure you here you will get the top guide as well!
I believe a master is one who knows more and more about less and less. So here, after this 5 min read I assure you will be a master to judge this small and handy but important kitchen tool. I believe that whenever you are using anything or tool and you don't have the best knowledge about it you can't make the best out of it.
So I have this curiosity and this curiosity has always helped me to get and choose the best option of my required item out of the congested market. But it truly takes some time. So here I have made this tough job easy for you as if you are in the search of a perfect heat diffuser, I bet you will get one here.
Moreover, you are one of my kind who believes what he knows. I have presented a complete guide here in which you will get all the reasoning and logic. So let's jump to enhance our knowledge of the best heat diffuser.
What Is A Gas Stove Diffuser?
First of all, let me clear to you what this tool is for and what big wonders it can make?
This is not a very complicated tool and actually quite a simple one that disperses the heat evenly and lowers the focus of heat on one area. Moreover, it helps you to an even heat flow throughout the whole pan or pot on the stove.
Functioning Of A Heat Diffuser For Gas Stove
The functioning of a heat diffuser is to observe heat and disperse it evenly so that your food doesn't get scorch. When your pan is directly on the stove, the heat flame is in direct contact with the pan. In some dishes like caramel or rice, we don't need very direct heat so here comes a diffuser to subdued that heat impact.
In Simple words, a heat diffuser is a barrier between your food and heat. It assures that your food gets as much heat as required, at the same time all the food gets the equal impact of heat. This simple philosophy makes a great difference in the taste of your food. That's why a good heat diffuser is an essential component of any good restaurant kitchen.
How To Use A Heat Diffuser On A Gas Stove?
Using a heat diffuser is very simple and effective. You just need to make sure that the heat diffuser you are using is placed on the stove a few minutes prior to your pan. Because once your diffuser will absorb the heat and afterward it will deliver it to the pan evenly.
Benefits Of Gas Stove Diffuser
While you are up for a heat diffuser you better know that it will help you in the following ways
Will disperse the heat evenly
Do not let your food scorch
Improves the taste of your food
You get control over the flame in an organized way
No more hot spots in your pan
Buying Guide For Best Heat Diffuser For Gas Stove
The functioning of a heat diffuser is simple but it still has some technicalities, and when buying a heat diffuser you need to keep in mind the following points. Yes, this is a simple tool but if you will miss the following points while buying one you can make a mistake. So let's check these few points which seem like nothing but make a big difference.
Price Vs Reviews
When you are looking for a heat diffuser plate for your gas stove most of the products will be of the same price. But when you need to get true value for your money make sure that you check out the reviews. Instead of always buying the highest price, look into consumer reviews and satisfaction delivered.
Ratings and Demand
When you are going to order it online one very easy trick that will be your good lead in every purchase while buying online. You need to check in the ratings and demand, meaning a lot of customers have already purchased and still it's in demand after 1 or 2 years of its launch. It means it is worth buying as it is fulfilling all the requirements of the consumers.
Manufacturing and Material
When you are purchasing any product you can't overlook its construction material and manufacturing. While buying a heat diffuser please have a look, whether the manufacturer is new in the market, or has already a good reputation. Prefer any reputed manufacturer.
Moreover, materials like stainless steel or copper heat diffusers are best for the purpose. Otherwise, some coated materials and casted iron heat diffusers are easy to wash as well.
Definitely you will have to be careful about the fake products and the low-quality brands, those are just new in the market, and those low-quality products can vanish very soon.
Appropriate Size
The other important thing which you should never miss is to consider is the size of the unit you are going to order. Yes, there are different sizes available for your heat diffuser. You should consider and choose a size that is most appropriate with the place you are going to use it on.
If you are confused about the best size you can actually take a bit of help from the other consumer reviews and you can decide and see which size was best for the others, maybe a suitable option for you too. If you will get a big size that will not fit on to your stove it will be trouble.
Moreover, the diffuser will be small in comparison to your stove. Believe me, even then it's going to be troublesome and of no use to you. So be careful to choose the best size and get the best and desired results.
Value Of Money
The other point worth considering is durability, yes this is the factor that actually matters a lot. This factor depends on what value you are going to get out of your money. If the manufacturing and material, moreover the brand is good. You will definitely get something that is durable and that has actually a good value for your money.
But if you got something wrong that is good in looks and maybe works well for a limited time period and results in a non-durable and non-functional product. That is not at all a good investment or desired investment. To check the durability, you have to consider all the above-mentioned factors and that combination will provide you a durable product.
Good Look Matters
Yes, good looks truly matter but not more than quality, if you are getting something that is beautiful to look but not good at working. Definitely, you will never prefer to buy some gadgets like that so save yourself from the trouble and buy quality, not the looks. Especially when it's a tool and not a decoration piece.
Handy Choice
When you are buying a product or a tool for your kitchen, definitely you need to consider the space as well. As the heat diffusing space plate is not always going to be in use.
so you need to choose a bit handy and easy to store diffusing plates to sort that issue. So you must consider the weight and portability because both these things will help you in easy storage.
Note: you can even look for some folding heat diffusing units.
Warranty & Customer Care
When you are buying a product keep in mind that you are buying from a reputed brand. Because a good company doesn't just sell and forget the product but always provides good customer care even after selling the product.
Moreover, the product should have a warranty, because with a warranty your investment is safe. If the product would have any flaw you can claim a refund so always play safe buy a warranted product.The product you are choosing, if not offering any warranty believe me you can get some better options.

Why Best To Buy?
Sturdy and Long Lasting
Easy To Use and Easy To Clean
Easy To Store
Dishwasher Friendly
Perfect Hand Safety From Heat
Exclusive Heat Control
Perfect Measurements (8.25 x 15.75 inches)
Product Description & Features
Consumer Recommendations
This heat diffuser is definitely your most efficient and one of the most durable options. This brand has a good name in the market so you are in high chances to get a durable product. Rating criteria are also clear with almost 4.9 out of 5 scores, more than a thousand consumers reviewed and all were satisfied with the product.
Perfect Material
This diffuser is made out of stainless steel which makes it sturdy and long-lasting with its rust-proof quality. Furthermore, this heat diffusing plate helps in creating a flat cooking surface and disperse the heat evenly throughout the whole pan. Ultimately your pan doesn't get any hot spots and your food is safe from Scorching.
Efficiency 
With this heat diffusing plate, you will get good absorption of heat and provide you with good energy efficiency. Moreover, this defusing plate is easiest to store as well with its removable plastic handle. You can use it easily with your gas stoves, and even electric stoves, and glass top stoves as well.
Using And Cooking Ease
This diffuser is perfect for you if you are looking for some heat control for your simmering sauces and caramel making or any other technical cooking. It can easily settle all the small and big size pots, furthermore, you will find it friendly to use with its lightweight and easy to wash quality. It allows dishwasher washing as well.

Why Best To Buy?
Perfect Culinary Cooking
Even-Heat Distribution
Dishwasher Safe
Compatible With All  Sort Of Stoves
Fully Recommended
High Consumer Ratings
Product Description & Features
Consumer Satisfaction
This product offers you good consumer satisfaction and this is not my verdict but the opinion of more than 500 consumers. These consumers are not only satisfied and ratted this 4.9 out of 5 but also recommended to others.
Ease And Safety
This simmer mat is best to rescue your culinary creations with its heat diffusing qualities. You will get a perfect heat control in your delicate cookings no matter what you are cooking a milk dessert a sweet dish or some casseroles your cooking is going to be flawless as tour simmer mat is tremendous. You don't need to worry at all about the washing hazard. As you will get your perfect wash within the ease of your dishwasher, moreover no carbon steel with its high-grade quality.
Even-Heat
With this simmer mat as your heat diffuser, your pan will be free of any hot spot, and your food will be safe from any scorching or sticking and even burning. Your food will taste great as it's cooked under the most appropriate heat distribution.
Perfect Match
Mostly you have to look into the size and type of your stove while selecting your heat diffusing plate for your gas stove or electric stove. But when your choice is this simmer plate you don't need to worry about the compatibility. You will find it a perfect match for all kinds of your cooking surfaces. You just name the stove and you will find this defuser compatible with it.
Now your barbecues or your clay stoves or your gas stoves or any other all are sorted with this simmer plate, now your stove, your heat control.

Why Best To Buy?
Made in Italy
Most Sturdy and Strong
Flawless Service
Food Safety
Warranty
Best Heat Diffuser For Gas Stove
You Get Two Plates In One Purchase
Product Description & Features
Perfect Cooking
Your cooking is marvelous with this strong and sturdy heat diffusing plate. When you are cooking food under the safety of this truly marvelous made in Italy heat diffusing plate. Need No fear of scorch or burn your food. When you are using this plate the most delicate and delicious recipes are going to be cooked with perfection.you can even make your simmering sauces look more tempting and inviting with this heat diffusing plate best for Gas Stoves.
Tough & Sturdy Material
This is truly a wise and once in a lifetime investment, you don't need to consume again and again for a heat diffusing plate if this one is your choice. In this package, you don't get one but two heat diffusing plates made of cast iron. Both the plates are of two different sizes one for small and one for large utensils.
Best For Gas & Electric Stoves 
This plate can be your perfect choice to manage the temperatures and heat reduction on Gas Stoves and Electric stoves. If the quality matters more than anything to you believe me you would never like to miss the deal.
Warranty
If you want to just sure that your investment for a heat diffuser is correct and safe this choice will not disappoint you. as it comes with a 100% warranty if you have any disappointment or displeasure with your purchase the customer care doesn't leave you unattended.

Why Best To Buy?
Aluminum Steel Material
Easy To Wipe
Safe Food, No Burning No Scorching
Energy Efficiency
High Consumer Ratings
Best In Energy Efficiency
Product Description & Features
Consumer Remarks
This is a perfect product as the consumer whoever purchases this, is so happy to get this that they always give it no less than 4.8 out of 5 scores. And this one is not reviewed by one or two but more than 300 consumers. Yes the price might be a bit heavy for you but the value and quality you are going to get out of it is also remarkable
Durability & Value For Money 
This plate is made up of one of the most sturdy and strong materials Almunium steel. You will buy it once and you will never have to think about buying any Heat Difussing Plate again. So try this and make your heat control perfect and get the best value of money.
Energy Efficiency
This plate is one of the most heat efficient or energy-efficient heat diffuser. With this product in hand with minimum heat, it gets dispersed everywhere no heat is wasted at all. Save wasting energy during warming up as well. Heat is evenly dispersed in the whole plate and eventually sent or transmitted to the food you are going to cook. Moreover, once heated it stays warm longer and keeps your food warm longer and saves energy consumption.
Easy Cleaning
If you are concerned about the cleaning hazard don't worry the flat surface makes it very easy to clean. you don't even have to put it in a dishwasher you can just clean it with any wipe and it is all clear it never over burns.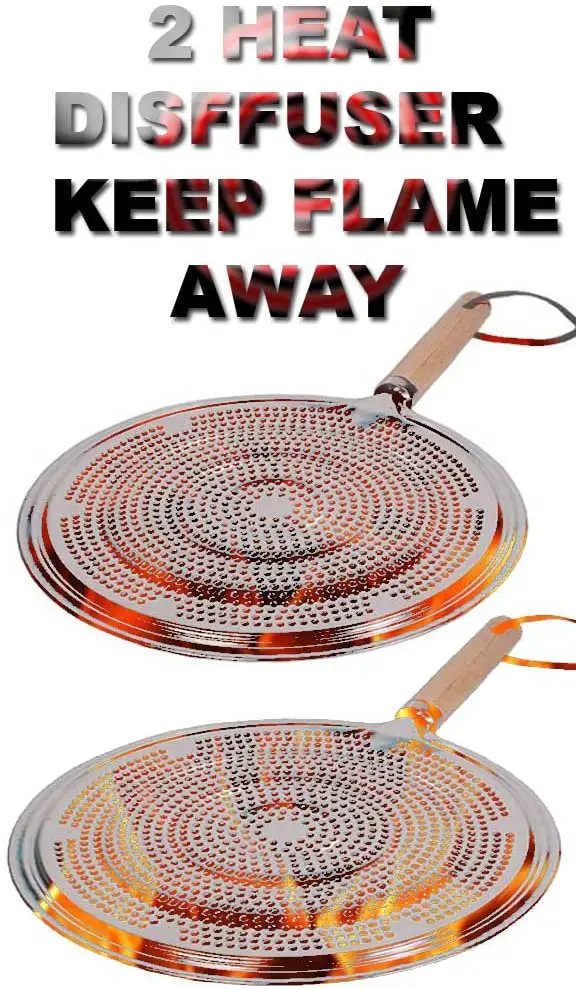 Why Best To Buy?
Economical
Two plates in one deal
Durable And Rust Free Material
Full Heat Control
Wooden Handle For Hand Safety
Good Ratings
Save Food And Pots From Burning
Product Description & Features
Consumer Remarks
whenever I suggest a product I keep in mind that what the other consumers are suggesting about it. So this product is a recommended product by the consumers. I present you with a survey of 300 consumers and most of them were very much satisfied and rated this wise gadget no less than 4.5 scores out of 5. So the consumers are happy with it buy this and be a happy consumer as well.
Ease Of Use
This heat diffusing plate is very easy to use, you will get in this deal 2 instead of 1 heat diffusing plates. Now make any surface flat for your cooking with these very easy to use plates. You can put them directly on the flame and it will act as a barrier between the direct heat and the flame. In this way, heat would be fully monitored and under your control. Now you can manage which amount of heat you want to deliver to your food for the perfect cooking for your delicious cuisine
Durability and Sturdiness
if durability and sturdiness are your concerns this defusing plate is made up of aluminum and that is a quite durable and sturdy material. It can bear heat without any rusting or without any corrosion.
Food & Pot Saver 
This heat diffusing plate is a perfect barrier between your food and your pots it will never let your food burn down until and unless it is totally ignored. Moreover, your pots do not get Black or burnt when you are using this wise gadget. In this way, this gadget not only saves your food but also saves your pots and your hands as you don't have to struggle with Messy pots.
Economical 
All these perfect qualities don't make it out of budget this is quite a low budget option so you can get this perfect gadget. That prevents your food from burning and scorching and help you to have a full heat control in no more than $10.If budget is your concern definitely this is your choice. Go for it you will get all the best functions which you have ever demand from the heat diffusing plate yet in a very low budget.
Conclusion
In this article, I have tried my level best to suggest you with the best heat diffusers available in the market. All the above options are nearly the best heat diffusing plate options for use gas stoves. But if you have an electric stove or again glass top stove still you can find one good option within the given options.
I personally prefer the products which have a good brand name and even then they are not very much heavy on your pocket. You don't need to spend lots of money to get this gadget you just need to spare a few dollars and you can make your choice. Moreover, this choice will not only save your food but also help you to keep your pots clean.
So don't think that this is a gadget you should or you shouldn't buy it is a must buy if budget is your concern. Here you are provided with the best options which are economical. if you prefer style I am more than sure that you will get a very beautiful and stylish one within the above options. That suits your kitchen shelf and still perfect in working.
If sturdiness and durability is your concern you will get options of cast iron and that will be a once in a lifetime purchase. Best of luck with your shopping. I really hope that you will find this article helpful in upgrading your kitchen with this perfect and wise gadget. That is a must-have for your delicate cooking.